Day 23
Henderson KY, 36 miles
---
A spent all morning wandering around Owensboro looking for bike shops so that added a few miles to my daily total. (I also found a good donut shop.)
Today is June 1, the first day of a new month, and also the first day of a new adventure within an adventure. Until the last 22 miles into Owensboro, I've been following the ACA (Adventure Cycling Association) route maps. They originally established the route back in 1976 to give people an "epic" route across the U.S. The first ride that year was made by some 5,000 cyclists. (That first ride became know as the "Bike Centennial.") The ACA route follows back roads. You could probably count the number of miles on busy 2-lane roads the ACA route has traversed from Yorktown until yesterday on two hands. Yesterday the last 22 miles into Owensboro was off the ACA route. I followed Google Maps using the "Bike" option for routing. Out of curiosity I've been comparing Google Maps (GM) and ACA maps routing choices for the last several days. GM does a good job of keeping you off busy 2-lane roads. The last 6 miles using GM was a bit of a white knuckle ride, but in fairness to GM, I don't think there were a lot of options. There was very little shoulder, heavy traffic, and about four miles out a thunder storm overtook me. I was happy to arrive in Owensboro only slightly worse for wear.
From here to St. Louis I'll be using GM. The one thing ACA maps do well is provide camping and hosting information along the route. I may have to get a bit creative when it comes to where to stay at night.
Before leaving Owensboro I went hunting for a bike shop and I found a good one. I needed some new gloves and some CO2. I had the mechanic/owner take a look at my bike with an eye towards what he might be able to do to give me some more climbing gears. He was very complementary. He noticed the name Davidson on the bike and told me I had a really good bike. He was familiar with the name. He couldn't say enough nice things about the build and told me there was nothing he could do to help me out. He told me the group-set that I have is top quality even though it's maybe not the best choice for the hills of Virginia and Kentucky (that was my choice, so that's on me). He said some people come into his shop and ask for help and he says he takes one look at their bike and has no idea how they made it from Yorktown to Owensboro. We both got a good chuckle out of that. This bike has been across the country once already, I have no doubt it will make it again.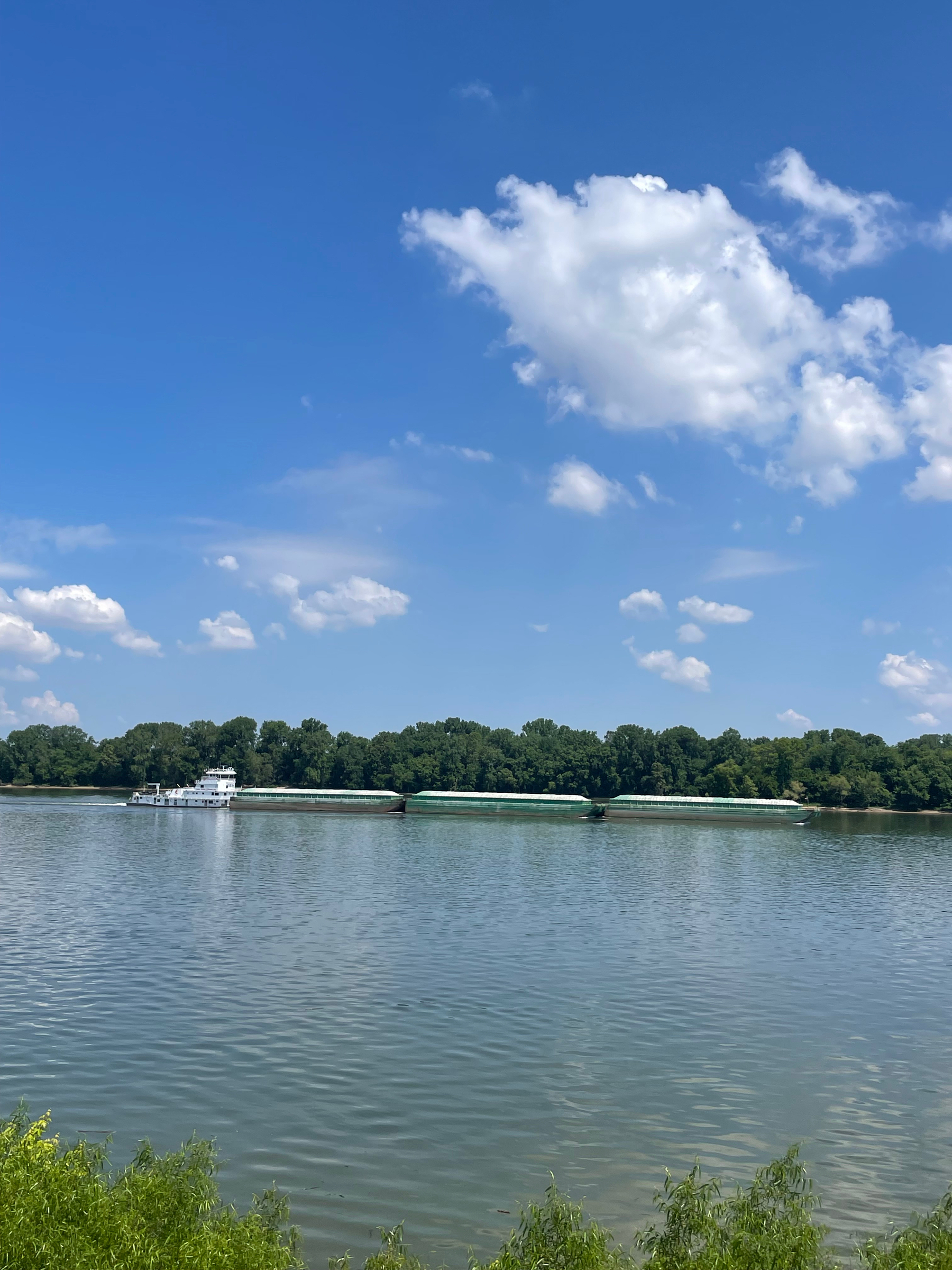 Barge on the Ohio River.
---