Day 37, Katy Trail
Windsor MO to Clinton MO, 17 miles
---
Today is a beautiful day. I'm excited to be finishing the Katy Trail. It's been a wonderful six days, but all good things eventually come to an end. As I put the Katy behind me, i'm looking forward to what will come my way on the next leg of my journey.
The Katy Trail is finished! I rang the bell at the Depot in Clinton!
I had coffee this morning at The Pour Poet in Windsor. I spent two hours enjoying my morning and talking to the proprietor. The coffee shop is also an antique shop and used book store. The books offered there are treasures. I found a biography of Gustavo Flaubert that I had to have. I told my host that I couldn't carry it and she said, "why not mail it home?" She not only poured a good espresso, she was also a good sales person. I ordered an Americano to back-up my double espresso and sat down to read a few pages from the book that will soon reach home before I do…
Flaubert was the last of the great French Romantic Novelists. Although he was well know in the Paris Salons and he traveled widely in the Mediterranean, he spent most of his time at home caring for his mother and, in his words, "living like an oyster." He wrote his works at the rate of 5 words per hour. That makes me feel good. I ride slower than most of the people that I meet touring. Now when they pass me I can just think of Gustave Flaubert.
The highlight of my visit to the Pour Poet Coffee Shop was the Papier-Tole framed on the wall of the shop. The proprietor (I do wish I had gotten her name) told me her mother made it. The shop is named in honor of her mother's creation. Papier-Tole is a technique for recreating a painting using multiple prints of the original work. The end result is a 3-D rendering of the original. The painting her mother chose to recreate was The Poor Poet, a painting by the German painter Carl Spitzweg. The painting was created in 1839. Her mothet's Papier-Tole version is a masterwork of Papier-Tole. If you go to Windsor, you MUST visit The Pour Poet to see The Poor Poet.
https://en.wikipedia.org/wiki/The_Poor_Poet
Going back to yesterday, I've learned that the turtles I've been moving off the trail are called Box Turtles. I also learned that Alligator Snapping Turtles are common in this area. They were described to me (so I could keep an eye out for them) and it was made clear to me that if I see one I should just keep rolling.
Also yesterday, I had someone ask me if I was wearing a "smart watch." Someone else told me they liked the way I mounted my "smart phone" on the handle bars of my bike. Finally, someone asked me if I was wearing "Smart Wool" socks. (You can't make this stuff up.) I'm going to resist the temptation to assume people are sending me a message about how I may be compensating in some way…
It crossed my mind that I haven't tried writing a poem yet on this journey. I wrote several when I crossed the U.S. on the Southern Tier back in 2019. Those of you that have read my Southern Tier Journal are saying to yourselves "that's a good thing." Sooner or later I'm going to have to give it a try. (If you're curious you can find those entries by clicking on the ARCHIVE link at the top of this page.)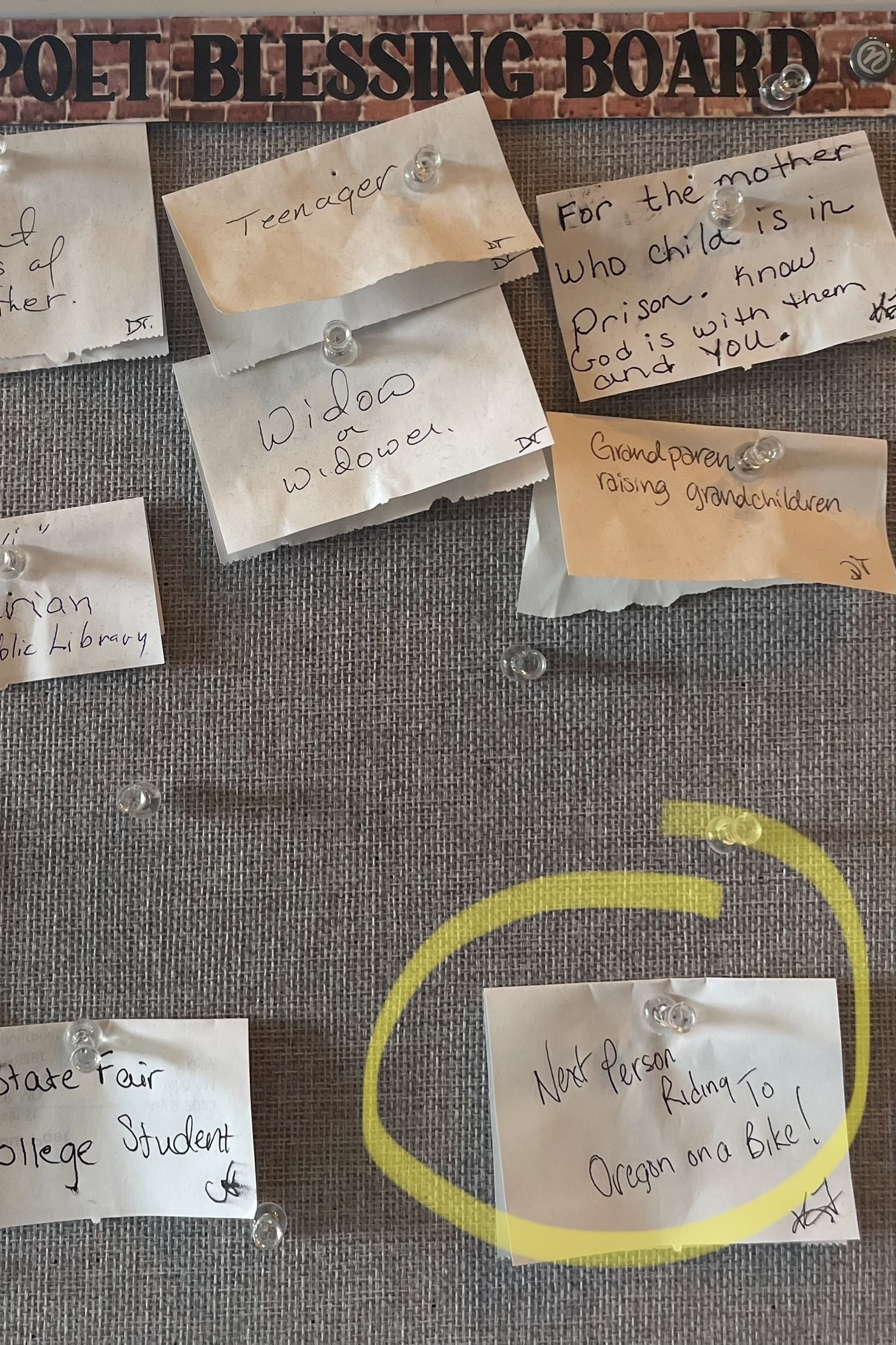 I left a "blessing" on the "Blessing Board" at The Pour Poet Coffee Shop in Windsor MO for the next cyclist heading to Oregon! (In this case a "blessing" is a gift card.)
---