Day 74
Wisdom MT, 67 miles
---
 I'm in Wisdom Montana. I hope some of whatever gave this town its name rubs off on me…
I made it over both passes and pulled into the town of Jackson at 1 PM. There is a great cyclist hostel here. I spent a half-hour hanging out and chatting with the owner, nice guy, full of information. Even though it would have been a great place to stay, it was early, so I decided to push on to the town of Wisdom. That was a good decision, an easy 18 mile add-on.
Tomorrow looks like an easier day (maybe) than today. I'm at a pretty good elevation here so the climb up to Chief Joseph Pass and Lost Trail Pass might not be too bad. Famous last words. I'll be into Idaho for a short distance tomorrow before weaving back into Montana. I'll be passing near the Lost Trail Ski Area. I want to ski some of these out-of-the-way areas.
The Big Hole Valley where I am now is on the East side of the Continental Divide. Honestly, this is a bit counterintuitive. The Big Hole Valley might be one of my favorite places in terms of scenic vistas. A place worth returning to. Tomorrow I'll pass over the divide again and be on the West side. Between Colorado, Wyoming and Montana, I'm not sure how many times I've crossed the divide.
When I go into a local restaurant for a meal, I've taken to sitting at the bar. I don't like waiting for a table, or taking up an entire table for just myself. Besides, sitting at the bar is much more entertaining. It's haying season and listening to the local ranchers talk about their haying progress is interesting. There are also fun things to watch. My bartender chews tobacco and trims his fingernails with an automatic knife while tending bar. He also uses his fingers to put the vegetables into the Bloody Marys. (Not my Bloody Mary, I usually have water with my food, I can't get enough water at the end of the day.) Tonight I had some coconut cream pie. It was excellent. Small towns are full of surprises.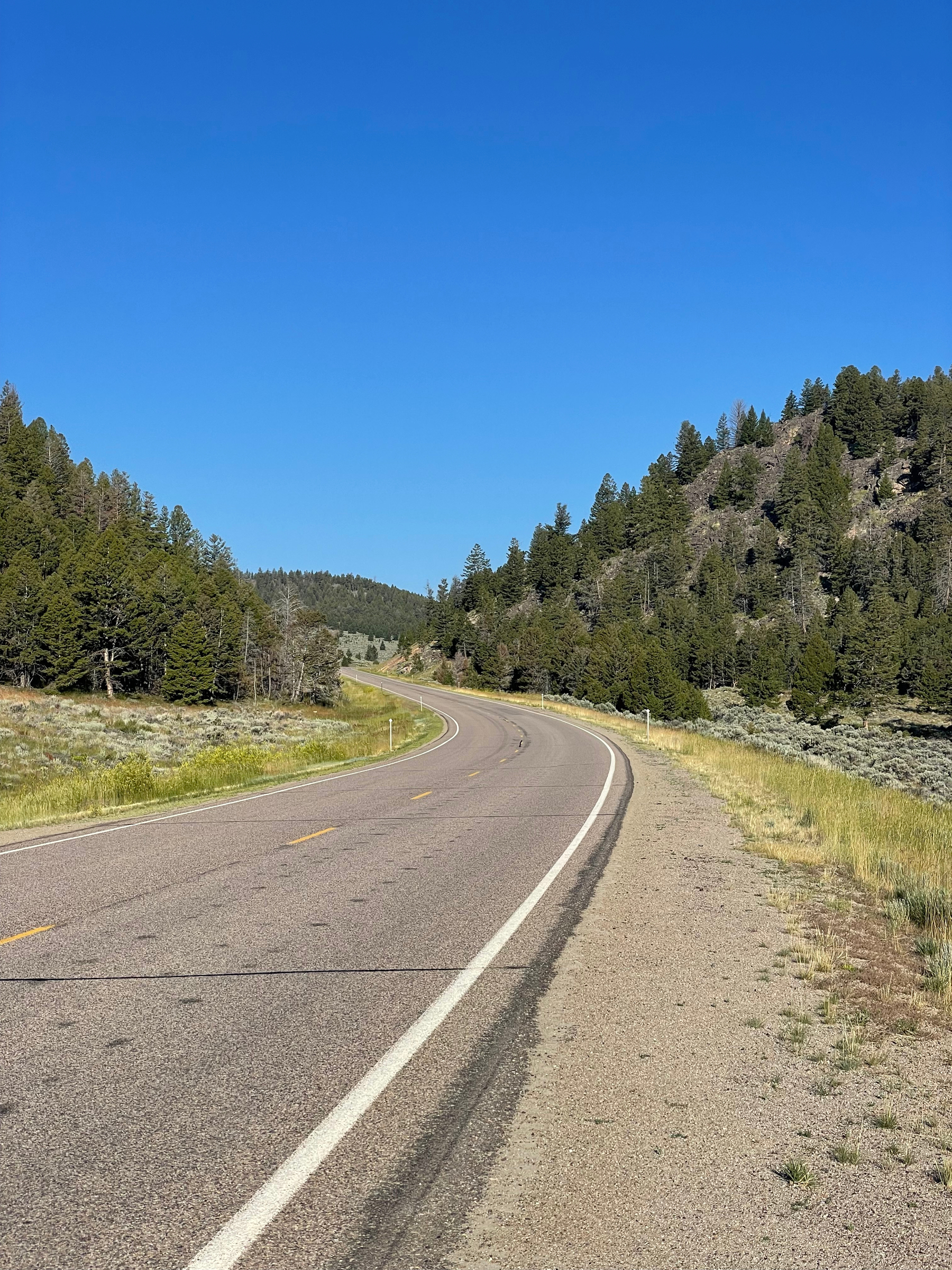 Near the top of Badger Pass. The shoulder you see is not that bad. I don't mind a day of riding on 18 inches.
---