Day 71
Ennis MT, 71 miles
---
Everything has a beginning, a middle, and an end. This trip feels like it's nearing its end. I still have a long way to go (MT, ID, OR) but it feels like the end is in sight…
My goal today was 71 miles. Looking at the ACA map, it looked like it was all down hill. By the time I stopped for a late breakfast at the Campfire Lodge cafe I was beginning to have some doubts about the elevation profile on the map. While I was tending to my breakfast special, I mentioned to my server that the map indicated it was mostly down hill to Ennis. The cook was just a few feet away and he started laughing… I knew at that point I was in for a longer day than I had planned on. The cafe had a sign that read: "Born to fish, forced to work." That got me thinking, I feel like I was born to ride, but I'm fortunate in that I no longer need to work.
After my late breakfast I finished riding through the Madison River canyon. The canyon is a geologic wonder. In 1959 there was a 7.5 Magnitude earthquake that rocked the canyon and caused a massive landslide at the mouth of the canyon. The landslide completely blocked the river and formed a new lake, now named Earthquake Lake. I stopped at all the interpretive road-side displays that explained in great detail how the event unfolded. I would put this in the same category as the eruption of Mt. St. Helens in Washington in 1980. I remember that well. I was in Tacoma and the ash plume caused by the eruption darkened the sky. My sister remembers it well too I'm sure. It was a Sunday morning and people were coming out of church to a dark sky filled with ash. Some people thought the world was ending, it was so dramatic.
Sometime mid-afternoon I had a flat tire. A Deputy Sheriff (not a Sherif) stopped to make sure I was okay. We talked a bit. I think he was trying to be helpful when he mentioned that the next six miles in front of me was referred to as the Bermuda Triangle. I asked why. He said because there were so many traffic deaths on that stretch of road. Not a confidence builder. I did appreciate his concern.
Strolling the streets of downtown Ennis a 92 year old man stopped me to chat. He had a great sense of humor. The first thing he asked me was could I give him a ride on my bicycle. After getting to know him a bit, I learned that he was born on Main Street in a cabin that was later moved one block away as the town started to grow. He said he had never lived outside of the one block radius in Ennis except when he worked heavy construction in Everett Washington. He helped to clear the land that the Boeing Everett assembly building was built on. A coincidence almost too weird to believe.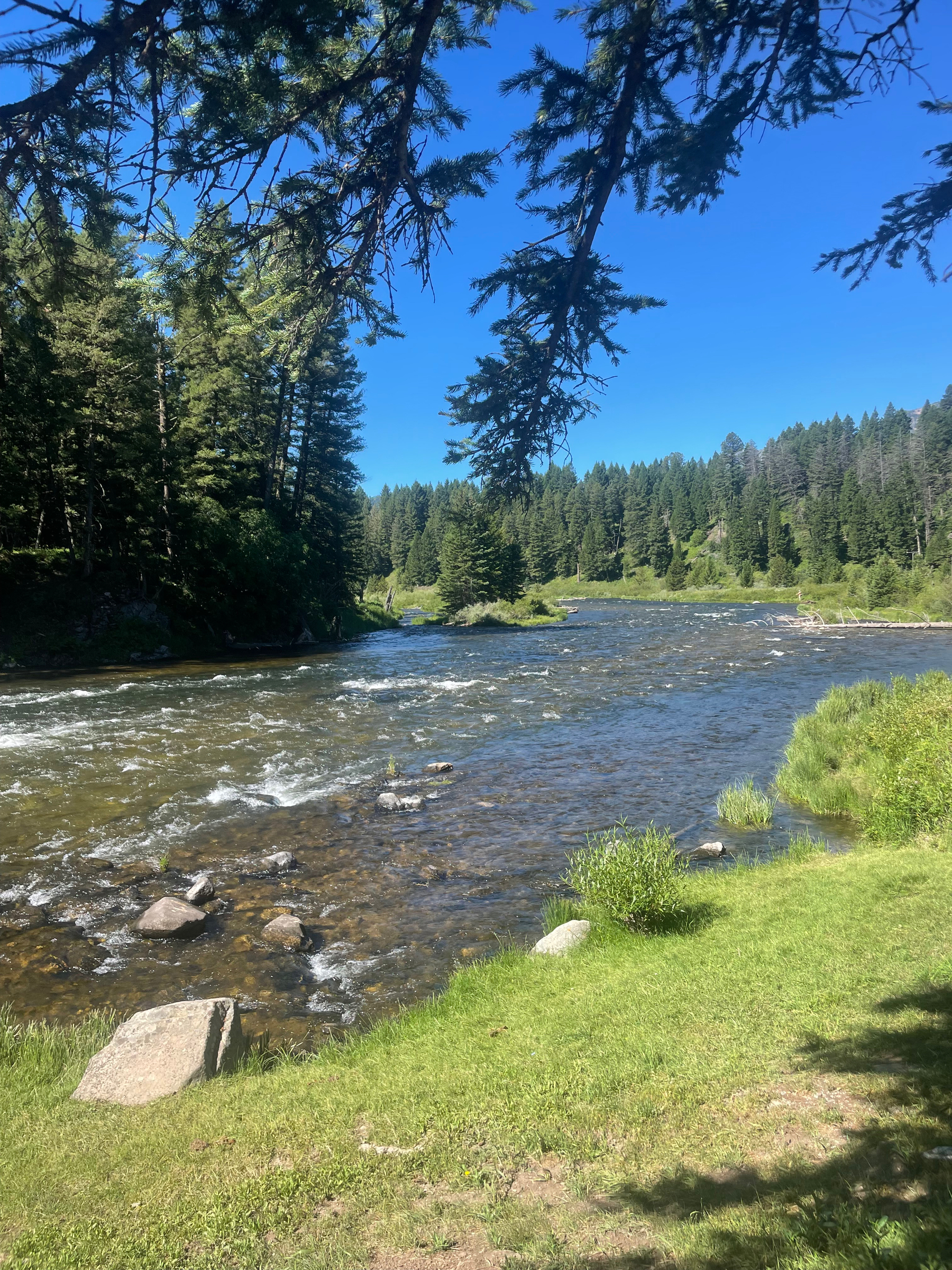 The Madison River between Campfire Lodge and Earthquake Lake.
---