Day 68
Colter Bay Village, Grand Teton National Park WY, 77 miles
---
It took all morning (and a bit more…) but I made it over Togwotee Pass, 9,584 feet, approximately 30 miles of climbing. It's pronounced TOE-go-wee Pass. It's named after a powerful Shoshone chief who first led white men over this route. At the top of the pass is Wind River Lake, the headwaters of the Wind River. The Wind River feeds three major river courses, one of them is the Snake/Columbia river system. The ride down from Togwotee Pass is stunning. The Grand Tetons are in your face all the way down to Grand Teton National Park.
I only post one photo a day, but I could easily have posted a dozen today. The mountains are majestic and awe inspiring. These are actually words too simplistic to do the landscape the justice it deserves. Metaphorical skills are called for when trying to describe such overwhelming beauty. I was captivated by Wind River Lake at the summit of Togwotee Pass. You can't see it from the pass, but it is just a few hundred yards off the highway on a dirt road. It reminded me of some of the beautiful alpine lakes around Mt. Rainier in Washington. (It made me want to go back to Mt. Rainier and re-discover them again…)
I'm staying tonight in Grand Teton National Park at the Colter Bay Campground. Our National Park Service provides campsites without reservation for hikers and bikers. What a wonderful benefit, not one lost on me. Tomorrow I'll be in Yellowstone National Park, the first National Park in the world. As a matter of note, there would be no Grand Teton National Park of it weren't for John D. Rockefeller, Jr., who bought up a large swath of ranch lands east of the Tetons then deeded them to the Federal Government for the formation of a National Park.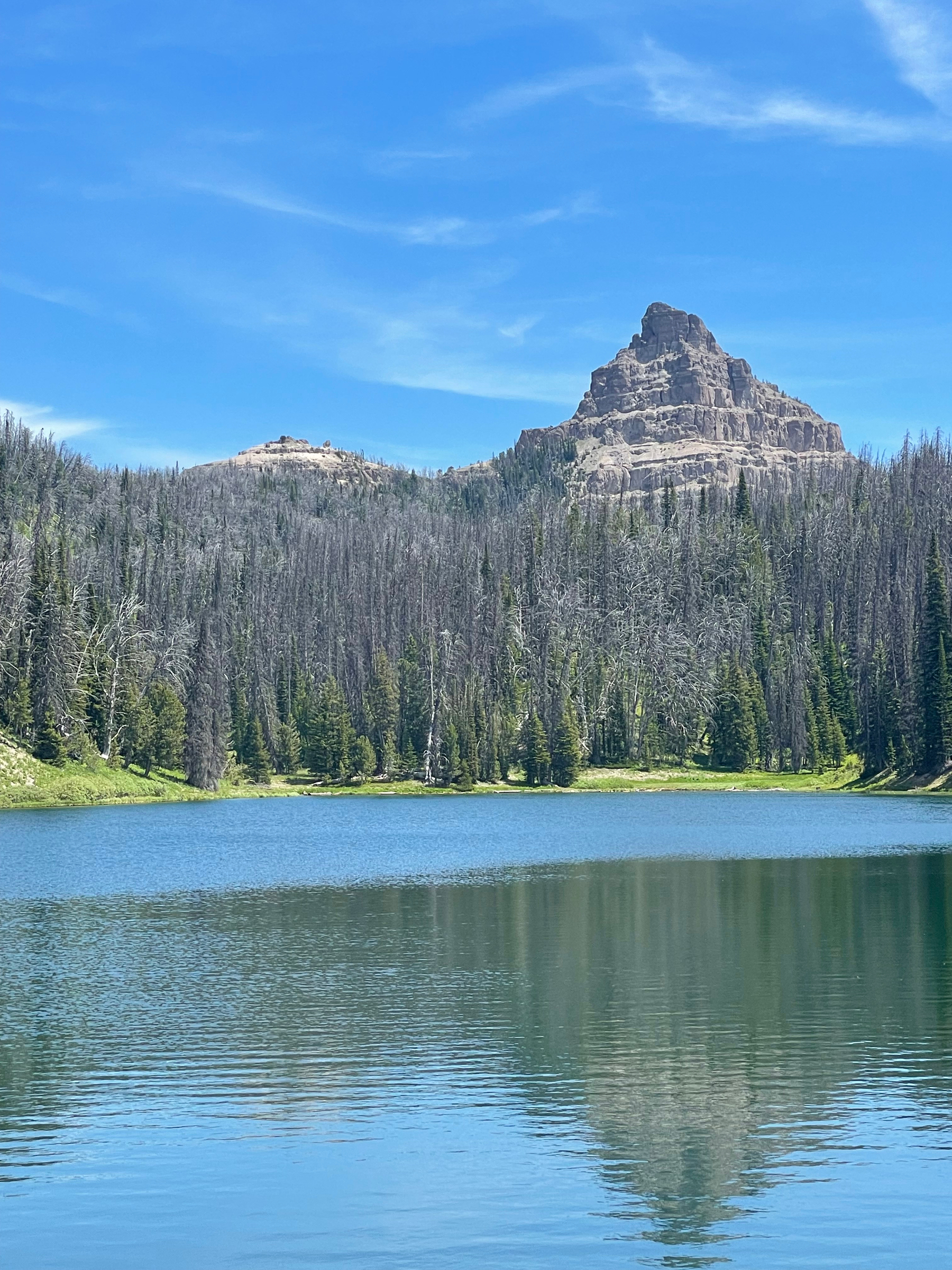 A beautiful alpine lake and the head waters of the Wind River. Reminds me of Reflection Lake in Mt. Rainier National Park.
---