Day 66
Lander WY, 58 miles
---
It was another pre-dawn start. I wanted to make Lander in plenty of time to enjoy the town. The best laid plans are often subverted. In this case it was a flat tire three miles out of Jeffrey City. No problem. I know how to handle this and it won't set me back that much… I removed the panniers from the bike and that's when the mesquites struck. Struck is not the right word, swarmed is more accurate. As quickly as I could I put some air in the tire, remounted the panniers, and started down the road hoping for a respite from the biting fiends. I got a half mile and the tire needed air again. As quickly as I could I aired-up while simultaneously being bitten to death. You can swat mosquitoes or change a tire, but you can't do both at the same time. I covered 3 miles, a half-mile at a time, airing-up, until I found some high ground where the beasts weren't quite as hungry. After I finally got the flat fixed I started rolling and about a mile later I pulled over at another historic marker. The marker explained how pioneers stopped at that spot to dig ice out of the ground to cool their food and drink. The spot is known as "Ice Slough." The ice was formed by a surplus of ground water that remained frozen well into June. The ground water here flows into the Sweet Water River some five miles down valley. That explained the mesquites and gave me another valuable history lesson about the life of early pioneers. (There no longer is ice formed here. That is likely attributable to the warming we are experiencing.)
Lander is a cool town. The bike shop here is excellent. They set me up with an Ortlieb handlebar bag in yellow to match my Ortlieb panniers. It is very hard to find classic yellow Ortlieb any more. I feel like I won the lottery! The guys at Gannett Sports are awesome.
On a whim I popped into the custom woodworking store on Main just to have a look around. I love all things wood. Of course I'm not going to put a custom built all wood dining room table on the back of my bicycle, but the one they had on display was beautiful. The lady minding the shop was charming. Her Husband and daughter are the woodworkers. She wanted to hear all about my trip when she found out I was bicycling across the country. I gave her and her friend this address. She told me I could hang out in her store (she had a big cushy chair right up front). Who does that? I was humbled by her hospitality.
There's a big climbing festival going on in Lander this weekend. I'm not a rock climber, but it looks like this is the place to be if you are. (I know some of you are into climbing, you should take note and put this on your bucket list!)
Dinner at the Cowfish Restaurant was amazing. I had the ribs. I was served by the owner. We met out front and chatted and when I came in to eat he picked up my table and served me. I told him the ribs were as good as Pappy's in St. Louis… they might actually have been better… He told me to chill there as long as it took to finish this post.
I've been passing historic landmarks making reference to the Oregon Trial, like yesterday when I passed Split Rock. I've been curious what the remnants of the Oregon Trail look like. Today I had my curiosity answered. Shortly out of Sweet Water I saw the trail, complete with ruts made by steel clad wooden wagon wheels. It really makes you marvel at our history when you see it imprinted on the land.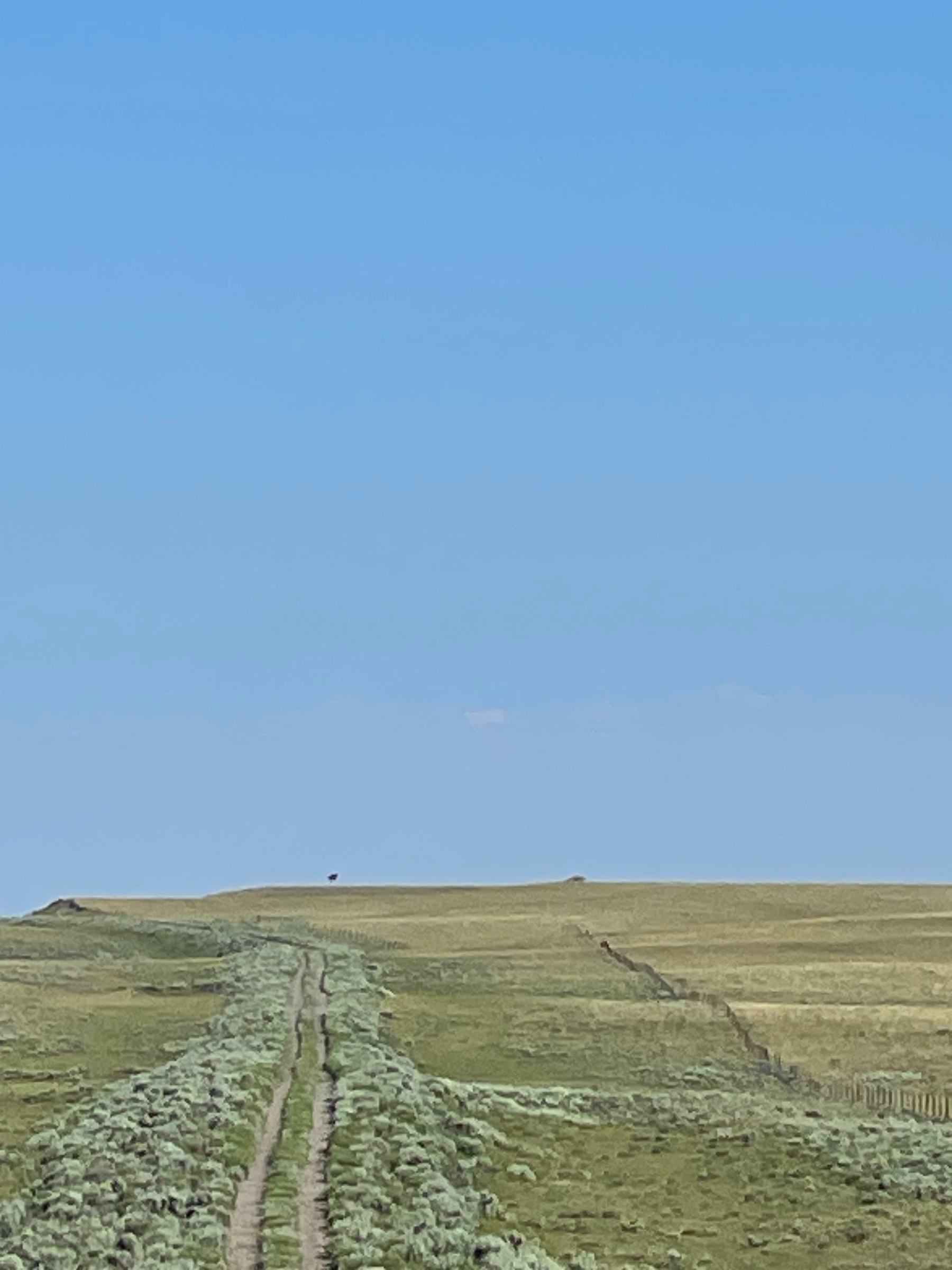 A portion of the Oregon Trial between Sweet Water WY and Lander WY.
---