Day 64
Rawlins WY, 44 miles
---
The wind blows from 9:30 AM til 3:30 PM… If you're lucky. They don't call this windy Wyoming for nothing.
I've been on the road for an hour now, I started this morning at 6:30 AM. There was no movement from the prairie grass when I started out, now the grass is just beginning to wave at me. I imagine it saying, "be patient, give me a couple more hours, I'm gathering strength so you can fully appreciate me…"
Another beautiful day. Once cycling gets into your blood, all you have to do is get on the bike in the morning to feel the joy. This trip across America is not an attempt to reach back into my youth. It's more about making up for lost time. The fact that I love cycling so much but have spent the majority of my life working and helping raise three wonderful children is part of the reason I do this now. It's also about the freedom. Freedom isn't about flags, slogans or the elimination of taxes. We need to take care of each other, not live for ourselves. Freedom is about the ability to get on the road and see and feel this great country, and yes, meet people of every stipe and connect with them. I was reminded today (out of nowhere) of the John Mellencamp song, Jack and Diane. He had it all wrong. It's not about "life goes on long after the thrill of living is gone," it's about living life fully for as long as you can, and finding the thrill in the most unlikely places, and where you least expect it.
Fourteen miles of today's route put me on I-80, it was the only way to get to Rawlins. I do not like riding on the shoulder of an Interstate. (I rarely do it.) The shoulders are filled with hazards you can't believe. I knew if I made it all the way to my exit without a flat tire I would be lucky, sure enough, less than a thousand yards from the exit I picked this up…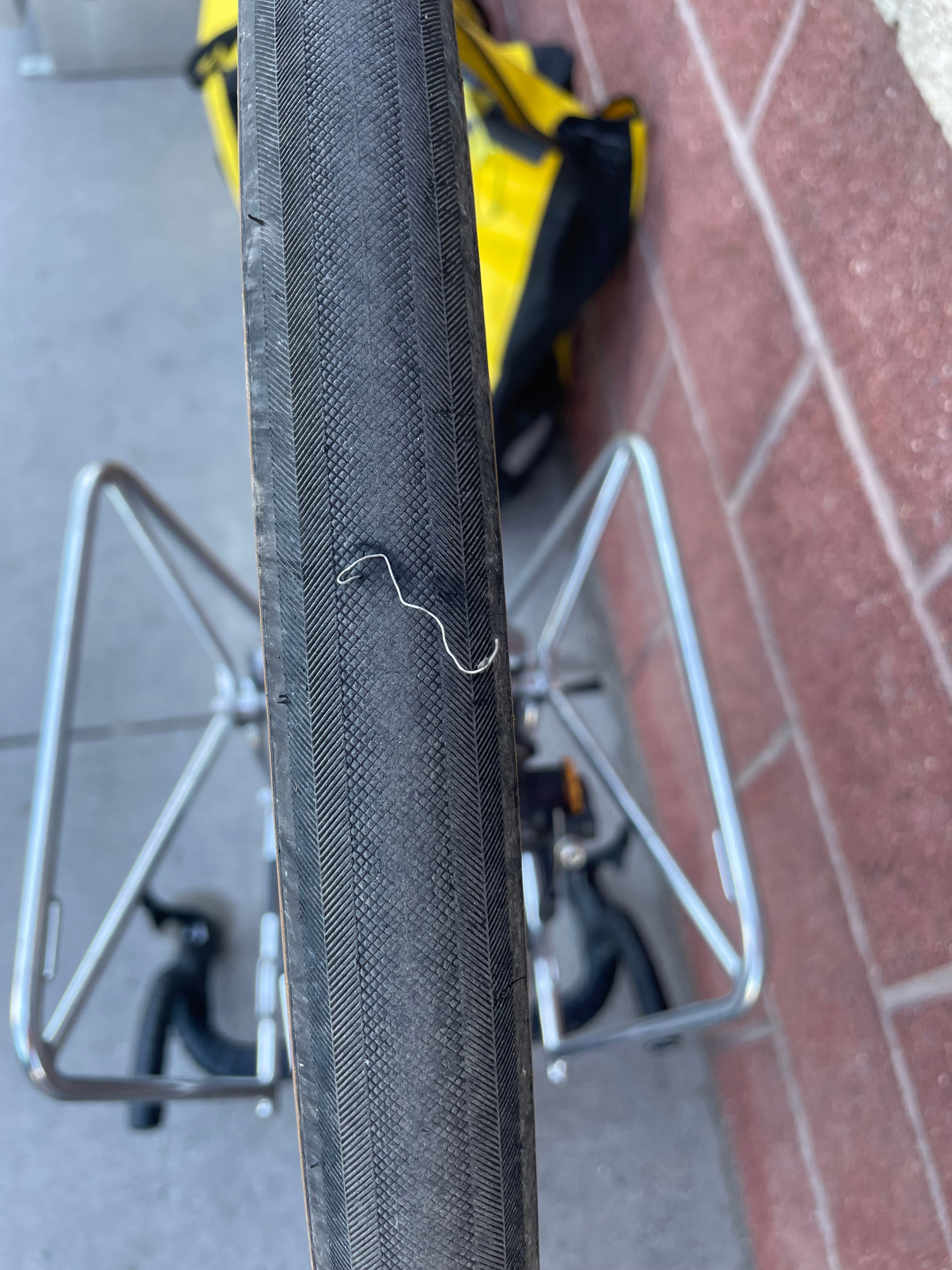 I remember back in 2019 when I did the Southern Tier (San Diego to St. Augustine Florida) I posted a photo almost identical to this one. This is a road hazard that tube tires have difficulty with. I wish that weren't the case. I'm of two minds when it comes to tubes vs. tubeless. I'm going to reserve judgement, but I think a tubeless setup would have handled this no problem.
---