Day 54
Frisco CO, 34 miles
---
Leaving Alma. Alma is the highest incorporated city in the U.S. at 10,578 ft.
I enjoyed the music festival in Alma last night from back stage! I pitched my tent behind the stage… Alma is a cool town. Definitely a hippie town. That includes the Mayor who was the MC for the festival. This is the town where old hippies go to retire, and that's not a bad thing.
Today was all about making it over Hoosier Pass and crossing the Continental Divide. A momentous day for this tour.
After a slow descent on bad road surface I pulled into the town of Breckenridge. If you've ever been to Park City UT, Breckenridge is Park City on steroids. This is the town that Park City would love to be. The Main Street is a mile long with nothing by high-end shops and eateries. I stopped into the Breckenridge Brewery for a burger and a beer. When I found out the bar tender was a skier I asked him what his favorite ski areas are. He ticked off three or four, but I got the feeling his two favorites were Copper and A-Basin. I asked him about Breckenridge and he just shrugged his shoulders. When I look up at the slopes from downtown, all I see is Blue. I suspect there are some challenges hidden out-of-sight, but if they are there, you can't see them from downtown.
As I was making my way down Main St., a man stopped me to ask questions about the bike. He was really interested in what it was made of, how much weight I was carrying and where the bike came from. I told him it was a Bill Davidson, made in Seattle. I told him Bill is the premier bike builder in Seattle. That leads me into another subject. I need to thank Bill and Marc once again for taking care of me on this tour. If they hadn't provided me with the right cassette for this type of tour when I reached St. Louis, I never would have made it over Hoosier Pass!
I reached Frisco towards the end of the day and was fortunate to find a motel that wasn't fully booked. I checked in for the night. I plan to spend the next seven days in this area. There's lots of National Forest as well as Forest Service Campgrounds. This part of Colorado is a hiker, mountain biker, trekker paradise. Plus there are just a lot of people here enjoying the beautiful views and (so far) excellent weather.
I had to layer-up going over Hoosier Pass because it was windy and chilly.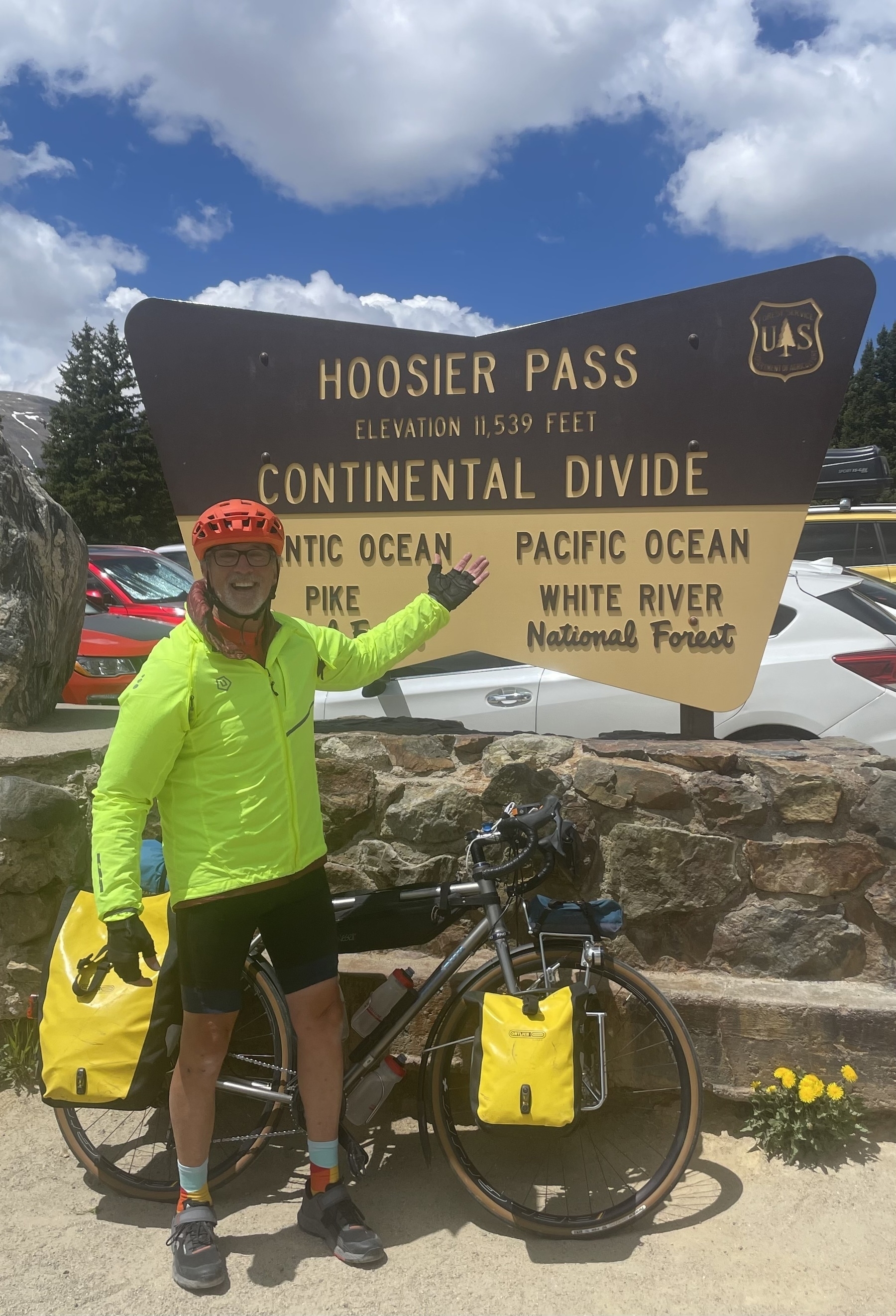 Hoosier Pass. Elevation 11,539 ft. The Continental Divide… Check!
---