Day 52
Fairplay CO, 50 miles, climb 2,520 ft.
---
The elevation here in Fairplay is 9,953 ft. They sell cans of oxygen in the motel lobby. The sign says, "don't let the elevation ruin your vacation." I'll try not to. I don't mean any disrespect to persons that have health issues, but I'm certainly glad I was able to ride my bicycle here from Virginia without the need for supplemental oxygen…
Last night two riders joined me in the bunkhouse in Guffey. They were from the Neatherlands. They had come all the way from Silverthorn in one day. I was impressed to say the least. Since they were leaving bear country, they gave me their can of bear spray to carry. I promised I would give it to the first east bound cyclist I found once I got to Oregon.
I stopped in the town of Hartsel on the way here. That was going to be my destination for the day. It is not a big town. Restaurant, convenience store, coffee shop, that's about it. They allow camping behind the restaurant but that wasn't speaking to me today. I pulled into the espresso shop and had a double espresso and a vanilla bean milkshake, The owner of the shop was a gracious host. We chatted for a half an hour and then her husband and his best friend came into the shop and the four of us had a lively conversation. It turned out we had a fair amount of lumber experience in our backgrounds, oddly enough, we spent several minutes talking about lumber drying techniques. (I know that sounds boring, but actually it's not, I'll leave it at that.) The shop was fascinating. It turned out to be a combination, coffee shop, rock shop, and art gallery. I was impressed by the hand-crafted Indian art. The Talking Sticks were beautiful. Who can't use a talking stick? Truly, a custom that performs a valuable service, I dare say our leaders could benefit from the use of a Talking Stick. I bought a Sterling Silver ring for $12. That won't be a burden to carry, and it will be a nice reminder of my journey.
My ride into Hartsel was fairly windy. Without looking at the sky I decided to continue on to Fairplay. About five miles outside town the wind came up again but this time it brought some steady rain with it. It rained hard for another five miles. I was glad when it stopped. I didn't mind they wind really, It dried out my rain jacket. I was wearing three layers so I was able to maintain my body temperature despite the wind. The wind was in my face at times, but not enough to take the joy out of the ride.
There was one thing trying to take the joy out of the ride however, that was the cars and trucks on the road. Hwy 9 to Breckenridge is not for the feint of heart. There is no shoulder most of the way, where there is one, it is mere 12" at most, hardly enough to even be called a shoulder. It seemed like yesterday a larger than usual number of drivers were intent on not giving the guy on the bicycle any room. Back at my espresso stop one of the guys told me he won't ride his bicycle on Hwy 9 any longer. I took note of that comment at the time, but his meaning was driven home to me by the time I reached Fairplay.
Back on TransAm Day 1, I met Brett from Maine. He was on sabbatical and had only about 50 days to do the TransAm. That is world class riding when you are self-supported. I got a really nice text message from him this evening that he had made it to Astoria! He had completed the ride in 52 days! He averaged more than 100 miles per day and he doesn't cheat on his stats like I do. He counted his rest days when calculating his average miles per day! Congratulations Brett. That is an awesome achievement! I wouldn't mind riding with you some day, but you would need to take a bit more leisurely approach for me to be able to keep up with you!
The real highlight of my day came shortly after the rain stopped. I noticed a mother bird and her chicks poking around in the grass a few yards off the road. (I did some research over dinner and my best guess is that I was looking at a Hooded Merganser and her chicks. There was a wildlife sanctuary nearby.) When the mother spotted me she ducked into the taller grass further away. She was chirping at the chicks to follow and they were chirping at one another to know which direction to go. The grass was taller than the chicks. Three of the chicks started moving towards the road, definitely the wrong direction. Two of them got turned around and headed back into the grass but the one closest to me became frightened and didn't know what to do. The chick was slightly in front of me so I pushed the bike forward to try and encourage the little fellow to head back into the grass. Just the opposite occurred. The little guy scurried all the way across the road and into the grass on the other side. A miracle in itself really, since it was a very busy highway. I knew this guy would never be reunited with it's mother and siblings now that it was on the wrong side of the road, so I pushed my bike across the road and went after the chick. I found it hiding, silently, in the grass about 10 yards from the shoulder. I was able to scoop it up into my hands and after waiting for traffic to clear, take it across the road and into the grass on the other side where it belonged. It didn't make a sound after I scooped it up and as I was heading back to the other side of the road, but once it heard its siblings chirping it let out a few of its own. I placed it in the grass a safe distance from the road and headed back to my bicycle feeling happy and a tiny bit proud of myself for giving Mother Nature a helping hand.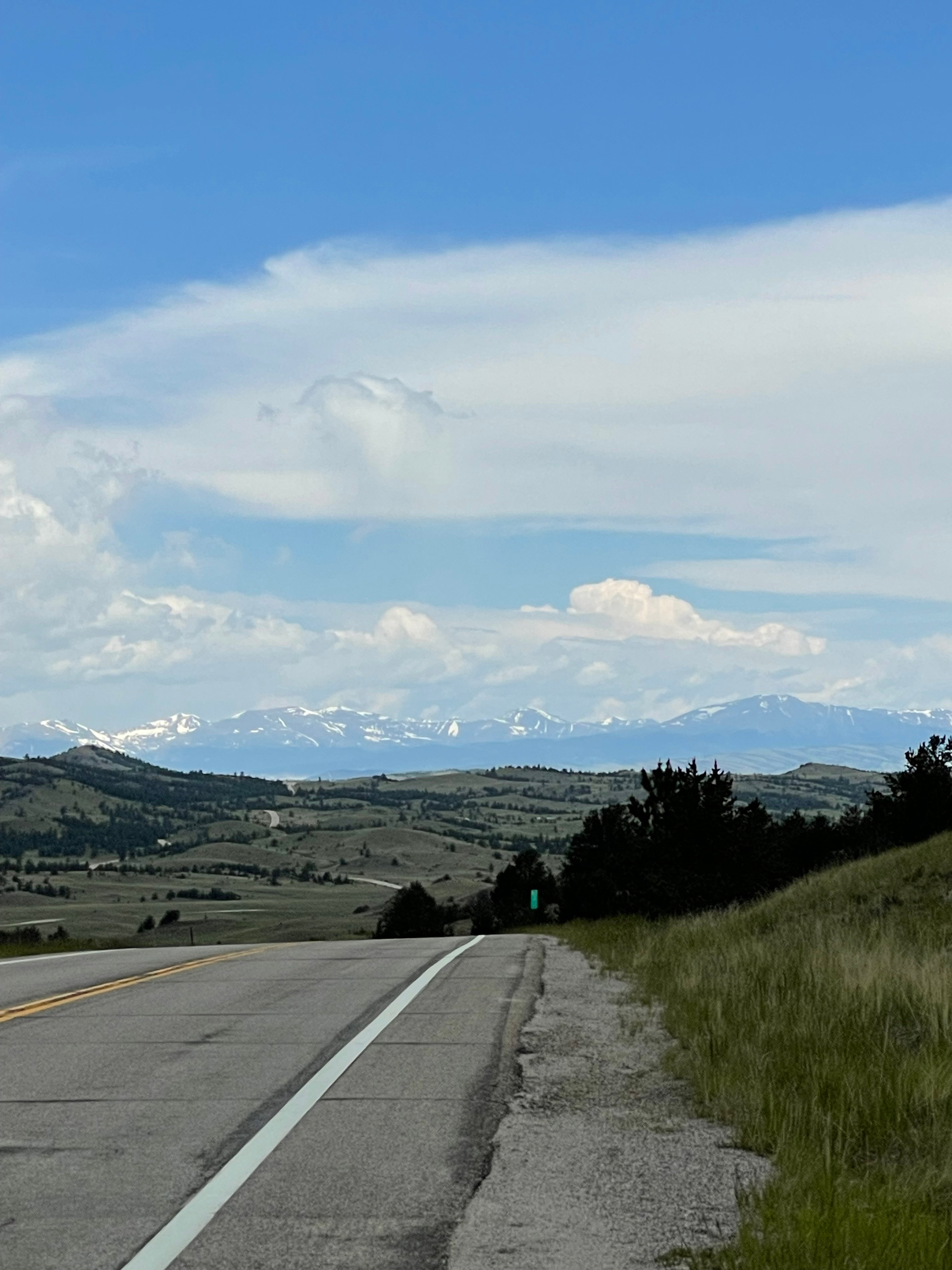 Current Creek Pass, 9,404 ft. My first real view of snow capped peaks.
---