Day 51
Guffey CO, 32 miles, climb 4,377 ft.
---
Today dished out some wicked climbing, but I made it to Guffey before the Bakery closed at 3 PM, so that's a very good day. To be perfectly honest, I am tired. I'm very happy to have shelter for the night, at the Guffey Garage Bunkhouse.
There were three climbs today. The first coming out of Canon City was 6 miles long. The second was 3 miles long, and the third was 2 miles long. I'm not sure what the grades were but I can report that at least half the time on all three climbs I was in my lowest gear and I never made it higher than the next one up from the lowest gear. Of course that actually tells you nothing because every cyclist is different. What I can tell you for sure is that if I had not gotten the 11-32 cassette installed in St. Louis I probably would not have made it to Guffey before midnight!
Do I miss the green vastness of Kansas and Southeast Colorado prairie grasses? I enjoyed them but I don't miss them. Growing up in Seattle I am charmed by mountains. Today was thrilling because I'm back in mountains and it reminded me of home. Not completely. These mountains are different of course. More rugged certainly for starters but there are subtle differences. The type of rocks are very different, as are the trees. In the Pacific Northwest, the mountains are dominated by Fir and Hemlock trees, here I noticed mostly Pine trees. I stopped along-side the road today to look at rocks. I picked up a small rock that looks to my eye like it has flakes of silver in it. I actually have no idea if it is silver or not, so I threw it in my pannier to ask a rock expert first chance I get. It could easily be galena, pyrite, magnetite, or maybe silver!
Tomorrow will be another day of climbing but it doesn't look like the climbing will be as difficult as today's was. I probably shouldn't be saying that, since I really have no idea what lies ahead of me…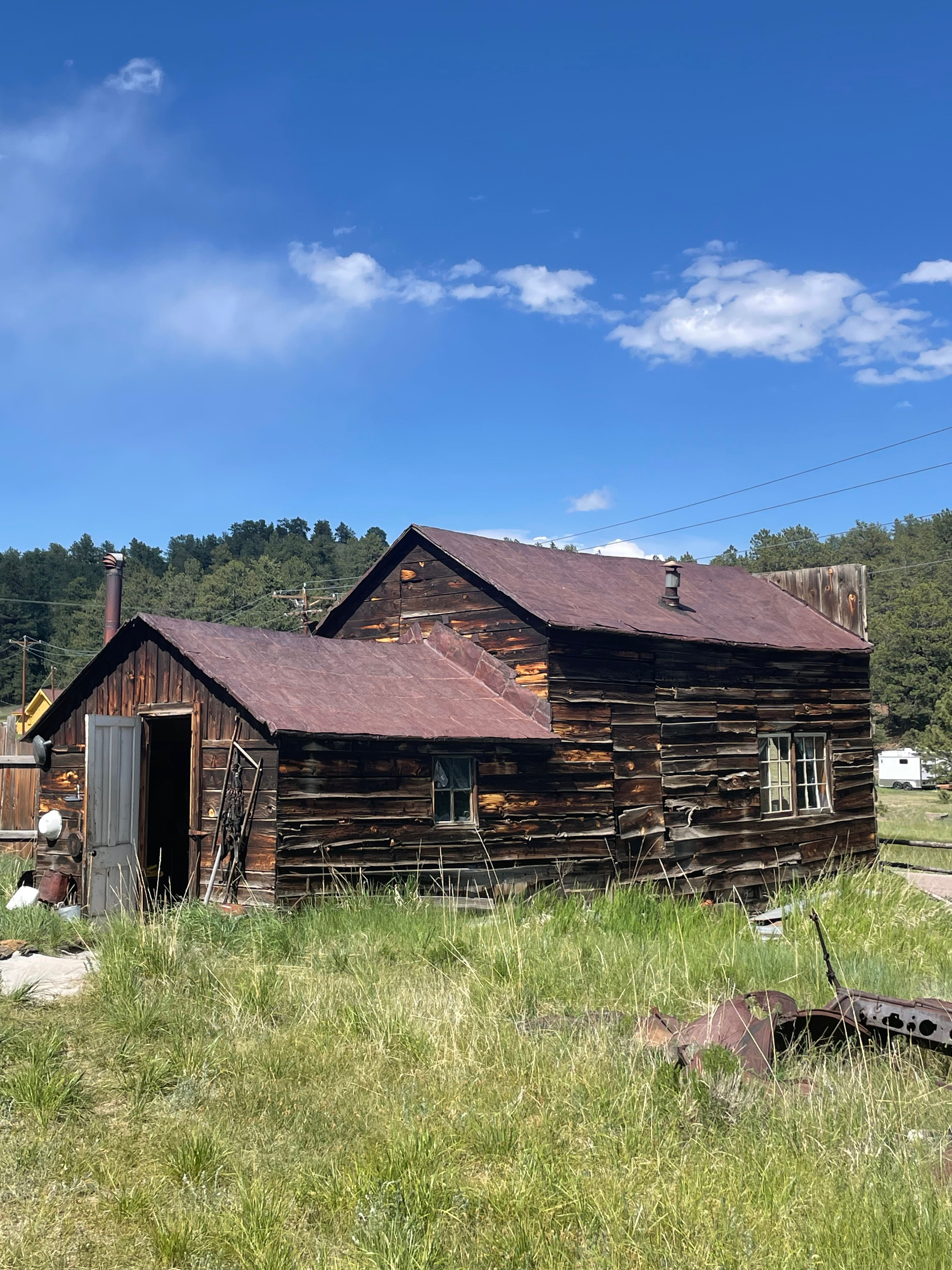 My bunkhouse in Guffey. It's a mile and a half (uphill) off the route, but totally worth it.
---