Day 45
Sheridan Lake CO, 78 miles
---
The 78 miles covered today checks the box for my longest day so far, and very possibly my longest of the tour.
It's 5:30 PM Mountain Time. I'm in Colorado! I arrived about an hour ago. Got a sandwich from the convenience store and went to check out the cyclist campground hosted by the local Christian Church. Unfortunately there is no shelter from the wind and the biting flies we're having a field day with my ankles. Someone told me the flies don't bite in Colorado, I guess I'm not far enough west yet.
It is windy. I'm going to call it a steady 30 MPH wind with gusts higher. I found a spot that has a pergola which doesn't help with the wind but will provide some help if it starts to rain later. This is the first time I have written a post in a wind storm. The good news is it's not cold. I'm waiting for it to get dark, then I will pitch the tent and the rain can do whatever it wants.
I met a guy going east this morning. Big John. He's only 6-8, so I'm not really sure how he got that name. He needed a bit of chain lube so I fixed him up. We chatted for a bit and he was full of good advice. Super dude. You can follow him here if you'd like.
Crazy Guy On A Bike Note: It's a BIG site with lots of cool info and blogs. To find Big John's stuff use the search box and search for "John Murphy."
Big John has done nine tours. Makes my four look a little weak, but hopefully I have a few more left in me. I really liked his advice about getting some copper water bottles. He said us old guys don't get enough copper. Another nice thing about copper bottles is that they freeze nicely in hotel room refrigerators so the next day you have cold water for quite awhile!
A bit further down the road I noticed a beautiful steel sculpture. It was outside a bakery. That seemed like a good place to stop. I went in and picked out a couple of baked goods and went to pay. The nice lady told me the family of the man memorialized by the sculpture out front buys whatever a cyclist chooses to eat there. No donations accepted. What a beautiful tribute. The man's name is John Egbers. He was attempting to cross the U.S. in 24 days. He had made it 2,200 miles in 12 days when tragedy struck John. The sculpture says "We are all diminished by one." A distracted driver took John's life. If I were a person of influence I would see to it that a law was passed requiring all cell phone text messaging and browsing apps be disabled if the phone was moving at 20 MPH or more. The technology to make that happen is simple. All it takes is the willingness to allow ourselves to be separated from these two non-essential activities when we are behind the wheel of a car. Maybe some day.
I'm looking forward to seeing what the weather brings tonight!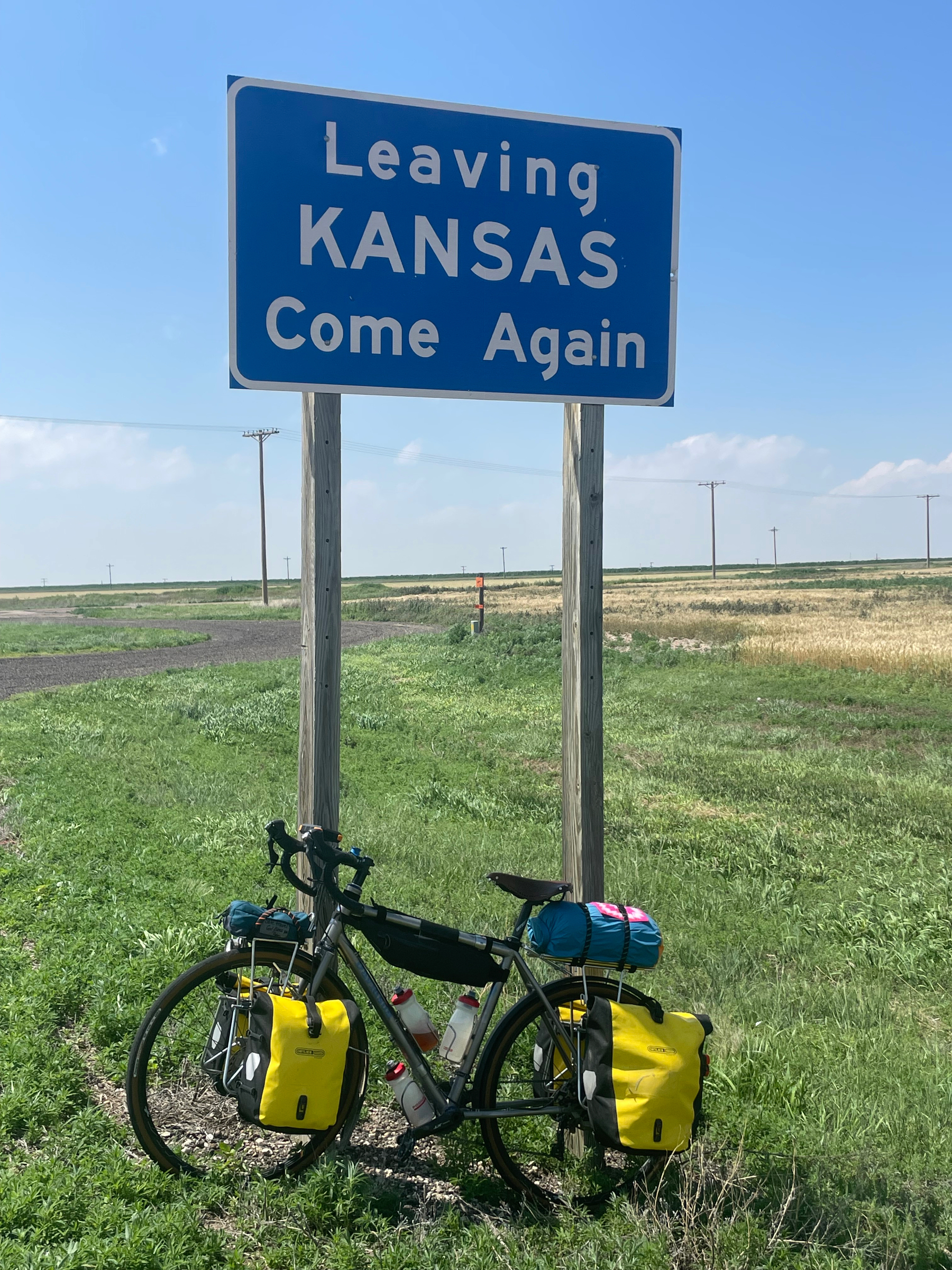 There was no sign to welcome me to Colorado, so this one will have to do.
---