Day 40
Florence KS, 47 miles (Father's Day!)
---
"You never know what worse luck your bad luck has saved you from."
—No Country For Old Men.
In my case, remarkably good luck has improved the outcome of this trip time and time again. I can't even really think of a case where I have had worse luck, let alone bad luck. I consider myself a very lucky traveler. I have no explanation for this other than the following observation. Be nice to people. Listen to what they have to say (even if you don't think they are saying anything) and ask lots of questions. Sometimes it's not complicated. Sometimes someone will come up to you and ask, "are you the guy riding the bike parked out front?" When that happens, you know you are about to get some good "intel" on the local scene or where you should go next.
My string of amazing luck continues. The owner of the local bike shop is going to open for me at 10 AM this morning because I need tires (again) and repair supplies. He's going to do this for me even though he is normally closed Sunday and Monday. To make matters even more remarkable, today is Father's Day and he's still going to accommodate me.
I also enjoyed two firsts last night. A full-on mid-West firefly exhibition and a full-on thunder and lightening storm after that. I was okay. I set up near a covered structure and when the first drops of rain started coming down, I quickly moved my tent under cover. I knew it was coming because the wind picked up first, enough to wake me. I stayed dry and comfortable all night.
After I get tires and supplies I'm going to try and make Florence KS. It's 47 miles from here. If Google Maps can find a way to keep me off gravel, I stand a good chance of making it. I have not found a "no gravel" setting when GM is in "bike mode." I'll keep looking. Yesterday when I decided to abandon the Flint Hills Trail and head for Emporia. GM insisted I get back on the Trail for another 9 miles, then once I got off the trail it put me on ANOTHER 9 miles of gravel. I had installed my emergency tube in the front wheel as a latch ditch effort to get me rolling yesterday and I did not have a patch kit in case that failed. I babied the tire on gravel, walking at times when the rocks were bad. The tire held, it must have been my excellent repair skills. To keep the tube from pushing itself out of the gash in the side-wall of the tire I folded a bill lengthwise and inserted it between the tire and the tube. I didn't have a $1 bill so I used a $5 bill, those are five times better anyway. (GM tried to put me on gravel 2 miles out of town so I said no to that and put it in car mode. I was on a 12 foot shoulder all the way to Florence, best asphalt riding I've had to-date!
There is one restaurant in Florence and it was open. I was mildly surprised since it is Sunday. However, when I walked in a gentleman by the door told me it was a private party. I smiled, thanked him and walked out. (There was a Conoco a mile away so I had a plan B.) As I was heading out a young man stopped me and we chatted a bit about my trip. He was most kind and apologized for sending me away with no food. I told him a slice of pizza at the Conoco would do. That's where I went. As I was eating my slice of pizza the young man drove up with dinner for me in a to go box. He explained that he went back in, told everyone about meeting me, and everyone at the party chewed the old man out for turning me away! It's a beautiful thing. As an interesting side note, the town's water is spring fed, the tower says the water is 99.967% pure. You bet I'll fill my water bottles in the morning!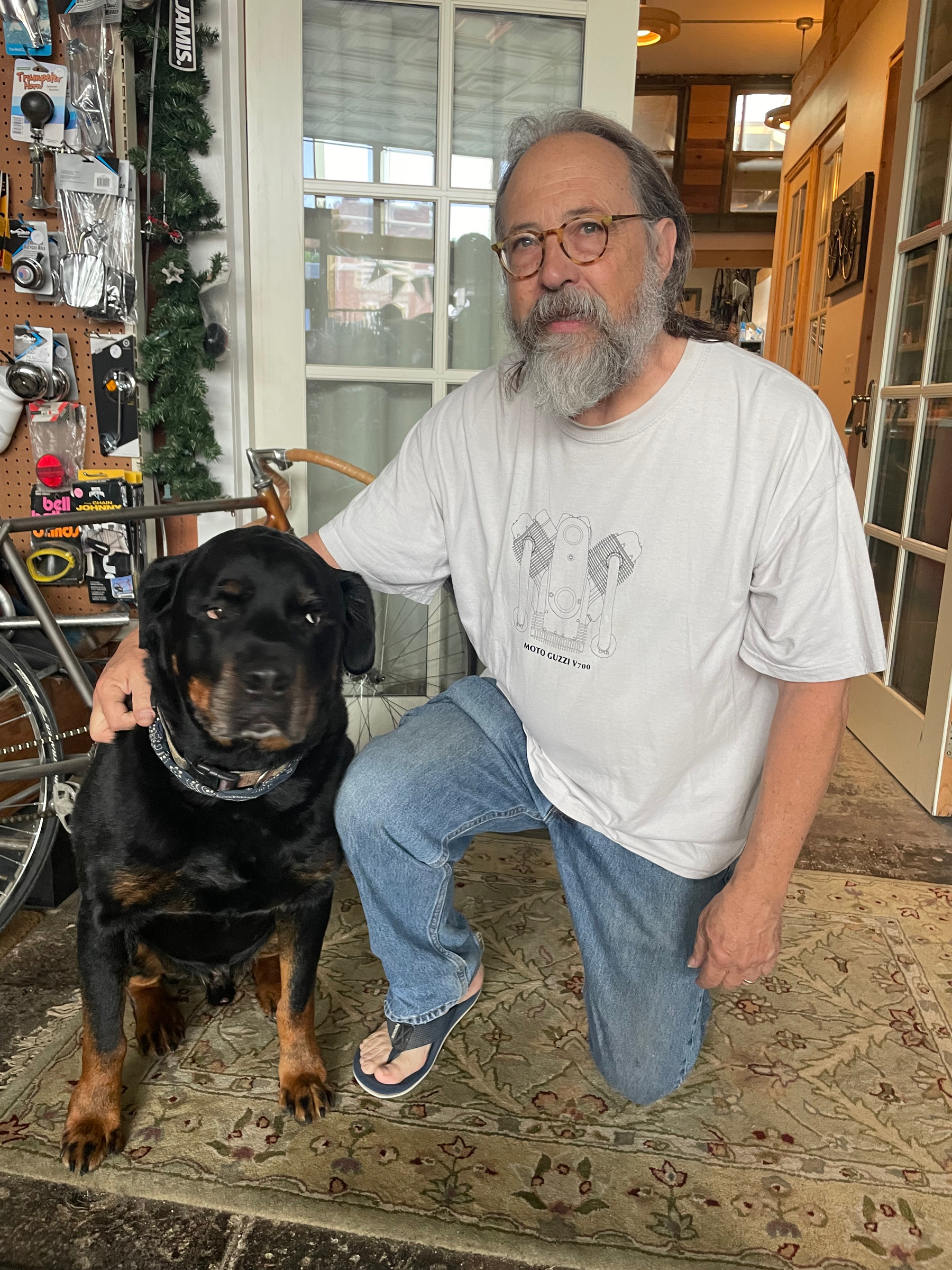 Ron the bike shop dude and his dog Brutus to the rescue!
---