Day 15
Hindman KY, 67 miles
---
Today was my longest day so far…
The morning started out with a nice 12 ounce three shot coffee from the RFG Society Coffee Shop in Elkhorn City. Jerrica, the lady running the shop was kind enough to open up for me. She told me her coffee was strong and she wasn't kidding. For the first hour of riding I was having troubling finding my cadence — I kept having to slow it down. There is a potter in town that makes hand-thrown ceramic mugs, they are very nice. Jerrica has a bunch of them for sale in her coffee shop, they say "RFG Coffee Elkhorn KY." I bought one and Jerrica was kind enough to ship it back home for me. It's going to be a really nice "souvenir" of my adventure! The coffee shop is named after the Russell Fork River that runs through Elkhorn City and the "Grand Canyon of the South" just East of the city. Jerrica informed me that there are some "Adkins" in the area, spelled correctly (or at least the same way I spell it). That's the first time I've run into a location where potential ancestors live.
I trade off between riding with padded cycling shorts and without. My theory is that every other day my southern exposure can breath better without padding. So far my strategy is working fairly well. I will say though, that it is pretty tough to beat a Brooks saddle. The shape really goes a long way towards reducing friction between the saddle and the parts riding on the saddle. I used to ride a "B-17" (hence the name for this website) but because the B-17 is a leather saddle and Seattle tends to get wet at times, I switched a couple of years ago to a "C-17." The "C" stands for "Carbon." The advantage of carbon of course is that it's impervious to moisture. The nice thing is it's just as comfortable as its leather sibling.
I love riding a bicycle, it is such a joy.
I recently read that "having a daily ritual in our lives is very important to keep us connected to what really matters." I believe those are true words. Of course the ritual does vary depending on circumstances. Right now it is sharing my daily experiences every evening (right here) and folding the tent and storing my gear for the day's ride every morning.
Early this afternoon I stopped for a sip of water and a man pulled up and rolled his window down. He wanted to know all about my trip and what I was doing. We chatted for about 10 minutes and he gave me directions to Hindman. His directions were spot-on. He offered to give me a ride in the back of his truck, but of course I said that I couldn't do that. I have a strict code when it comes to earning the miles. He wanted to follow along on the journey so I shared this site with him. If you're out there kind sir, thanks for taking the time to stop and chat with me. As much as I like riding solo for long distance and long duration, it's nice when you get to have a good conversation with someone.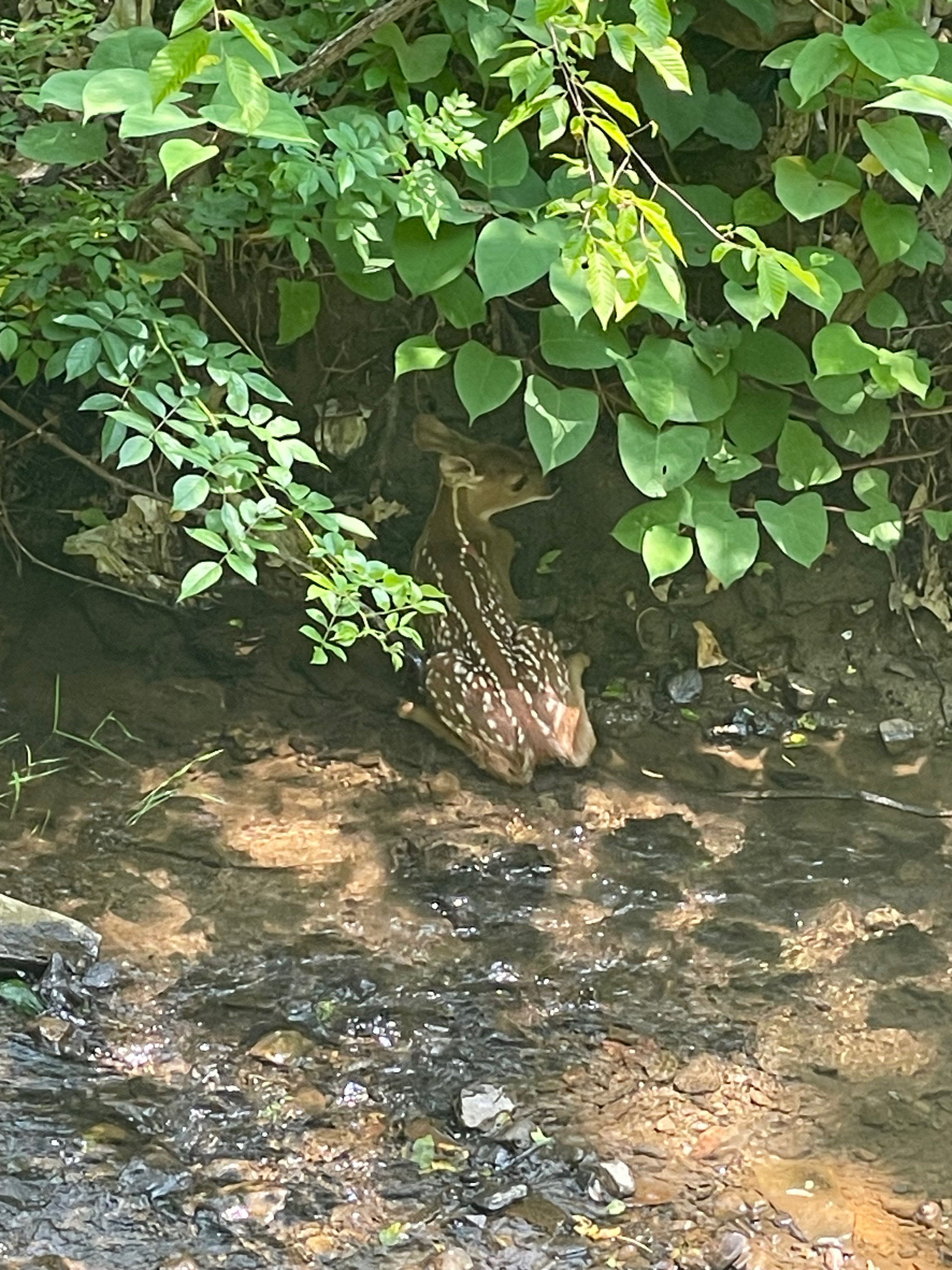 The doe ran up the hill about 20 yards, then looked back at me to see if I was following her. The fawn stayed motionless.
---