Day 7
Lexington VA, 55 miles
---
Today I broke 50 for the first time. It was not easy…
I left the Cookie Lady's house early and reached the Blue Ridge Parkway at 7am. I knew it was going to be a long day. I had a choice of starting with one bottle of water (normallly I start the day with three) or ride five miles down a steep hill to the nearest town to replenish my water and snacks. I chose not to add 10 difficult miles. I would pay a price for that decision. The map showed me there would be food and services just off the parkway in 20 miles, so I was fairly confident I could make that even though the parkway is grueling… When I arrived, there were no services. The map was incorrect, that meant I had to go another 10 miles and I was already finished at that point.
I had to stop frequently to rest. I was asking myself a lot of difficult questions, none of which I was in a mental state to answer. During one of my moments of rest (slumped over the handle bars) A kind man stopped to ask if I needed water. At that moment I realized what a "Trail Angel" is. I replied "that would be nice." I couldn't get out much more than that. He pulled over in front of me and got out and allowed me to fill my water bottle, I drank it in one go. He let me fill it up again for the road. As we chatted, he casually informed me he had a box of M&Ms, he would let me have them if I wanted them. That's when I knew for sure he was a Trail Angel, and I told him so! His name is Tim Calloway from Harbor Springs MI. We had a nice long conversation (as I recuperated and gained my senses). Tim was one of 300 hikers out of 3000 to finish the AT back in 1975. He was on his way to Damascus VA for a trail reunion. I believe he said something like 20,000 hikers do the AT now every year. There will be almost that many in Damascus for the reunion. Damascus is a town of 2,500, so your can imagine there will be a tent pitched on every blade of grass! I very much appreciate Tim, as you can well imagine.
I had another 10 miles to go to get to food. I made it. It was actually fun. The descent off the parkway was a gas. I turned off and descended down a winding narrow 2-lane that dropped 2,000 feet in 2.5 miles! I have some brake pads left (I think). When I reached the hamlet of Vesuvius, I pulled into Gertie's for some food. They were preparing real food on a large flat-top so I ordered a Gertie's Burger. It was excellent. I filled up my water and headed out for the last 20 miles of my ride that would put me in Lexington. It was mostly flat until the last 5 miles, which was mostly uphill. I made it and found a Best Western at 7pm. Long day.
Long distance cycling Rule #2:
"Don't forget the M&Ms."
For those of you reading this story that are interested in such things, my BP at 2pm was 136/70/102. I try and keep the heart rate around that number, which does mean stopping from time-to-time. But I'm mostly Okay with that.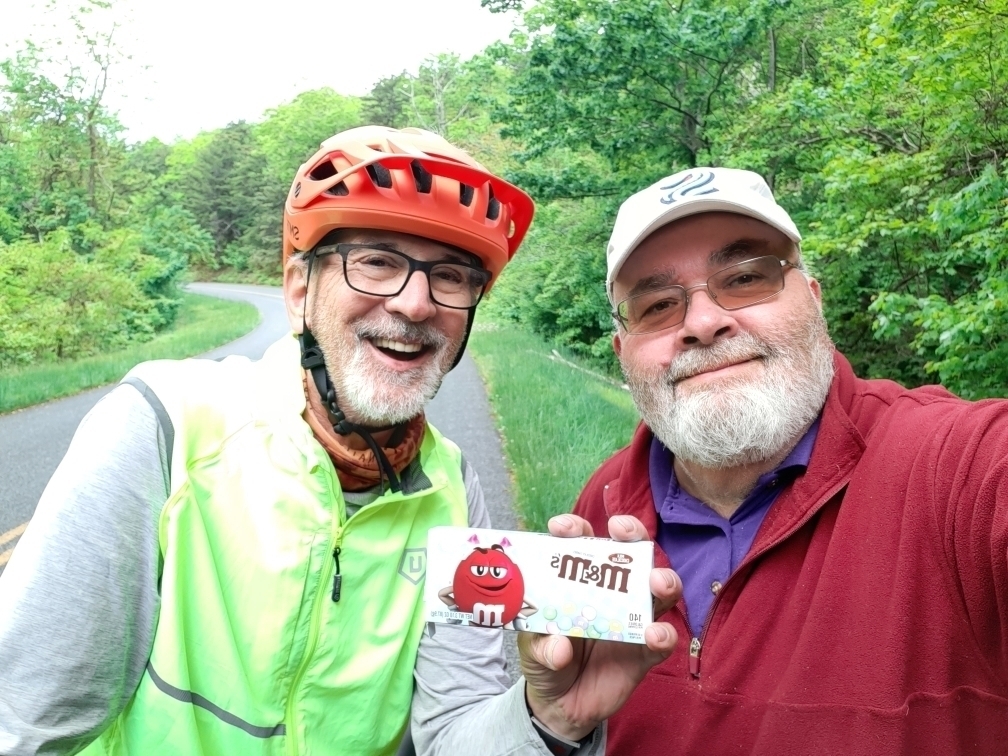 My Trail Angel
---